Last weekend was bacon galore. A "kitchen situation" such as this happens when you haven't done your weekly visit to the market and all's left inside your ref is bacon, asparagus, chicken liver and half a kilo of mussels. Hors d'oeuvre becomes main dish.

This is very similar to rumaki, sans water chestnuts, soy sauce, ginger and sherry. Still YUM!
Ingredients:
Bacon, cut in halves
Chicken livers, cut into quarters
Pepper
Sprinkle chicken liver with pepper (with salt if you wish) and wrap each piece in 1/2 slice of bacon. Secure bacon ends with a toothpick. Place wrap-ups in a pan and bake at 200 degrees centigrade (fan-assisted) until liver is cooked and bacon is crispy. Serve hot.

I baked 'em together with bacon-wrapped asparagus. Served all in a plate with steamed mussels. Inulam sa kanin!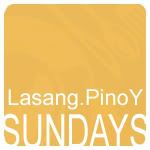 Lasang Pinoy, Sundays Week 19: On a Stick!
(Or… a small stick a.k.a. tootpick.)