Malay's nasi lemak?

Or Singapore's chicken rice?

Or it may be a question of what you want your rice to be cooked with.
Rice in nasi lemak, which literally means "rice in cream", is steamed with coconut cream. It is usually served in a large platter with anchovies, roasted peanuts, hard-boiled egg, cucumber slices or kangkong (river spinach), fried chicken wings and sambal sauce. Yummy with a zing!

With chicken rice, the rice is steamed using chicken stock. And I mean whole chicken or bony chicken parts boiled for hours for flavorful chicken broth. Rice is usually served separately but alongside a plateful of steamed or roast chicken on a bed of sliced cucumber. It's never complete without dips of ginger, soy sauce and chili sauce. More photos here. (And here's my 1st attempt.)

Me? I love both!
Photos taken in a Peranakan restaurant in Beijing.
… Currently eyeing the best Southeast Asian restaurant in Auckland!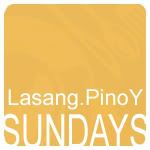 Lasang Pinoy, Sundays. Rice.